When you look at your child, you see who they could become, and wonder how to help get them there. So do we.
RAISING HUMAN BEINGS IS AWESOME... AND TOUGH.
As parents, we try to balance the reactive nature of life with the intentionality of raising our children to their full potential - all while they are distracted by technology, social pressures, daily routines and more.
Enter the best week of summer. We provide an engaging summer camp experience, partnering with you in an intentional plan for your child – a plan that encourages your child to become a confident person who loves Christ.
And it takes place in the backyard every kid dreams of!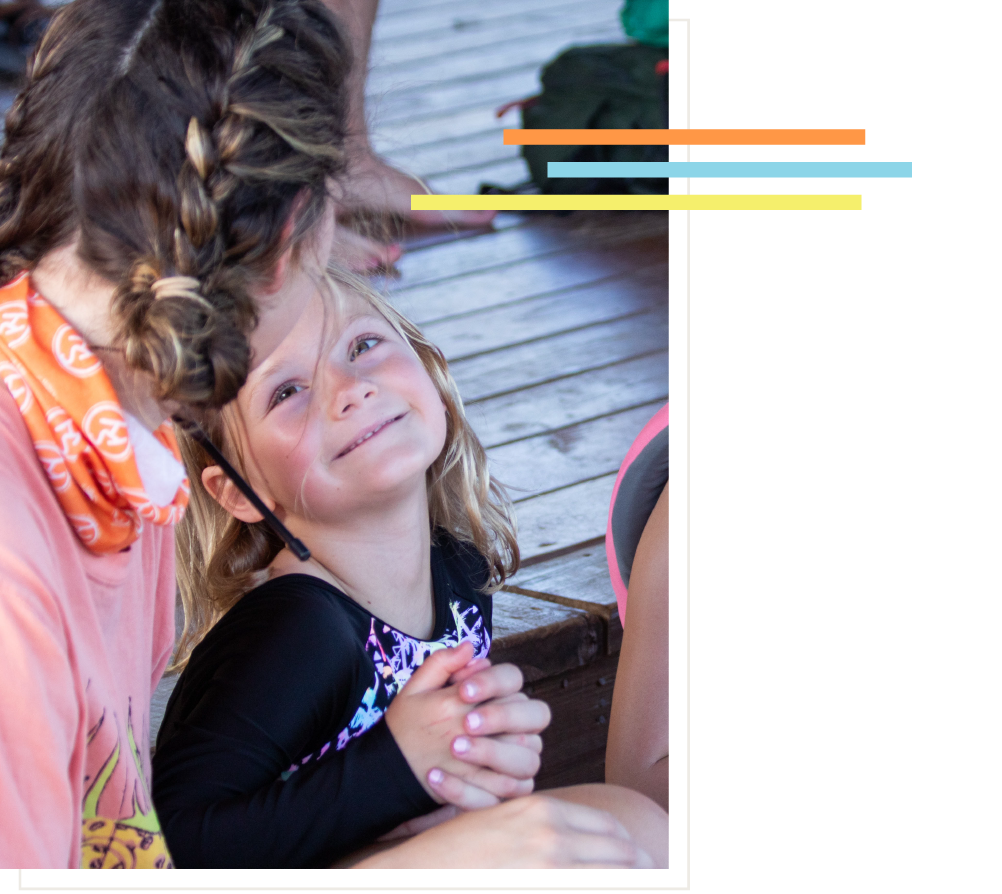 Summer Camp
WHAT EVERY KID NEEDS
At Sky Ranch Christian Camps your child will have the opportunity to:
Form lasting relationships
Foster independence
Try new things
Experience spiritual growth
For over 65 years we've been helping parents inspire, challenge, and encourage.
Feel Secure in Your Decision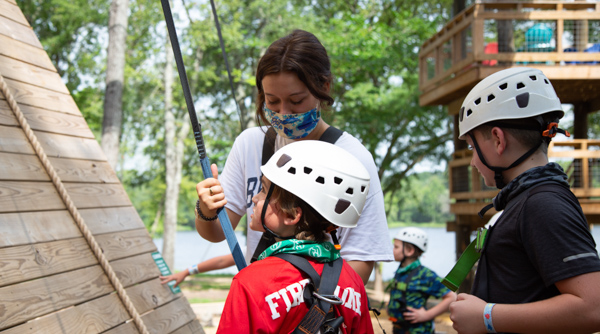 Safety
We evaluate everything we do through the lens of safety. It isn't just in the big things, but also in the small things. We are accredited by the American Camp Association, but more importantly, safety is a part of our culture.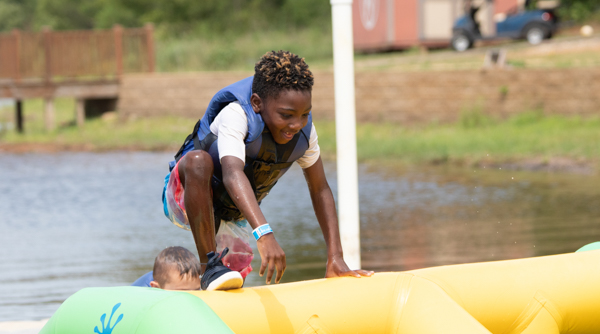 Fun
Feeling safe frees up the space to have FUN - silly fun for our youngest campers in Texas, all the way to adventurous fun for teenagers in Colorado. Engaging counselors help turn every activity, night event, impromptu dance-off, and meal time into a fun experience that unites cabins together.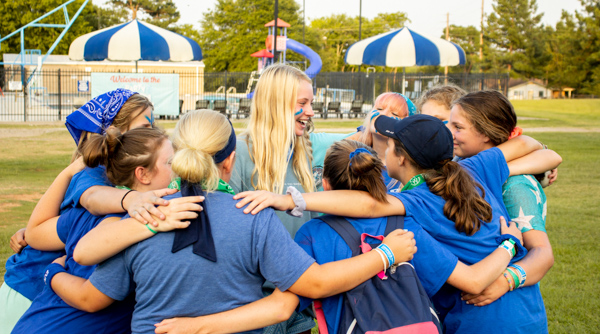 Faith
We know that when a camper feels secure and is having a blast it opens up the opportunity for them to ask questions and grow in their faith. The intentional plan of the Life Map is woven into camp in relevant, age-appropriate, and fun ways: Bible study, summer theme, and teachable moments with counselors.

It's not just a week. It's a plan.
Fostering spiritual growth and relationships, year after year.
Each program is guided by an intentional plan where we seek to grow a camper from who they are at 6 to who they can be at 18. This plan is called the Life Map.
Our yearly curriculum answers one of four worldview questions:
Who is God? What is our need? What is truth? Who are you?
Developing Character & Faith
PHASE 1: LEARN
During this phase, character development takes place. Through fun and relationships guiding them, campers can come to saving faith in Jesus.
Putting Faith into Action
PHASE 2: EXPERIENCE
Campers are challenged to live out what they believe, by putting their faith into action. They are ready and desire to learn more about who God is and who He created them to be. Phase 2 is what we call Leadership Camp.
Contributing as a Servant Leader
PHASE 3: BECOME
As developed leaders, former campers are now contributors - serving in their community, church, family, and camp.
Activities
There's never a dull moment at Sky Ranch.
*Not everyone does everything. Activities are age & program specific.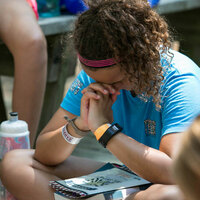 Bible Study
Sky Ranch's biblically-based study curriculum answers one of the annually rotating worldview questions:
Who is real? (God is real)
Who is Jesus?
Who do you trust? (Scripture)
Who are you?
Each program will tackle these 4 questions from the Life Map meant to intentionally challenge and encourage our campers where they are at developmentally. By moving through them every four years, campers work through these questions in the different stages of childhood – developing and deepening in their understanding as they mature.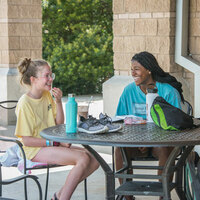 Cracker Barrel
Cracker Barrel is a time for campers to visit the camp store during the day and have structured free time to play games and hang out with friends and counselors, all while enjoying their favorite snack or purchasing a camp keepsake from the store to take home.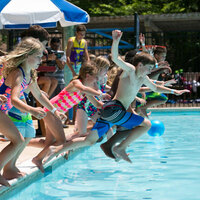 Crazy Pool
Cool down at the Crazy Pool, complete with a Wet Willie Superslide, basketball goal, 9-Square in the Air, and an Aqua Zip'n!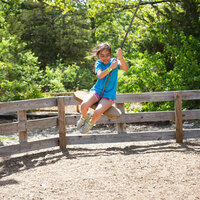 Frontier Town
Frontier Town is a fun-packed activity zone featuring the Adventure Playground, T-swing, and a netted arena used for Dodgeball.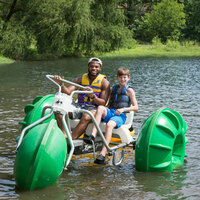 Marina
The Marina at Sky Ranch is a waterfront activity area. With AquaTrikes, Canoes, Corcls, and Stand Up Paddle Boards to provide the opportunity for a remarkable experience.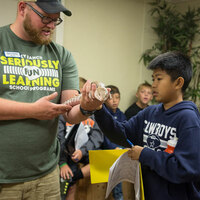 Nature Center
The nature center at Sky Ranch provides a hands-on, interactive experience to observe and learn about various mammals, reptiles, and arthropods. Facilitated by our trained staff, guests have the chance to encounter unique animals like the red-tailed boa, chinchillas, and hedgehogs.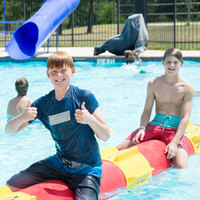 Party Pool
Kick your feet in the shallow end, play water polo, or challenge yourself on the trapeze!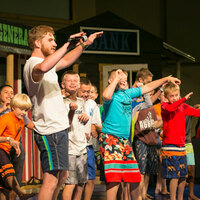 Skit Time
This is a mid-day time to get out of the heat and rest indoors, while singing songs and watching funny skits and videos created by our Camp Life team.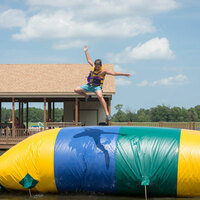 Skywaii
Skywaii features swimming and lakefront activities such as the Blob, Wet Willie Slide, and Water Inflatables!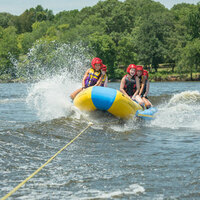 Torpedo
The most popular summer camp activity, campers get the thrill of racing over the waters of our 90-acre Sky Lake as they are pulled on an inflatable behind a boat.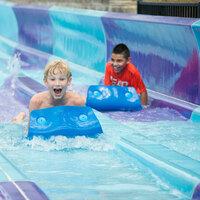 Mat Racers & Water Slides
Have a thrilling race down the four-lane mat racers, and then go cruise through the three body slides.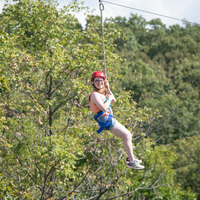 Ziplines
Speed down our multi-line ziplines with your friends. A high-flying adventure you'll never forget!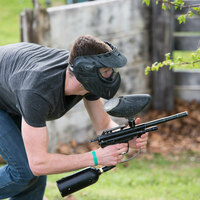 Paintball
Combat or target practice, Sky Ranch has something to offer for participants of varying skill levels. Develop unity with your team as you strategize how to cross into the opponent's territory or become an expert at shooting on target. Additional cost applies.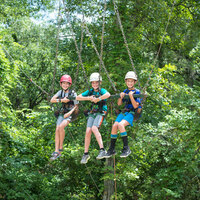 3-Person Giant Swing
Our thrilling, 3-person swing offers a beautiful bird's-eye view of the lake.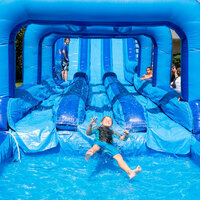 MEGA Waterslide
Come experience our MEGA Waterslide that has three lanes! See how may spins you can do before you reach the pool at the bottom.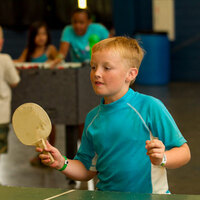 The Block - Activity Center
The Block is our air-conditioned Activity Center, which provides a way for guests to beat the heat by playing games indoors like Basketball, Gaga Ball, Volleyball, and Ping Pong.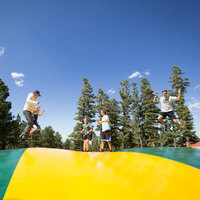 Jumping Pillow
The Jumping Pillow is an activity you probably haven't seen before. Jumping on a giant inflated air pillow provides a fun and new experience.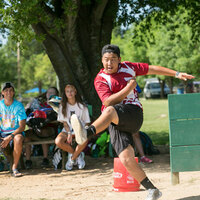 The Sandlot
The Sandlot offers a fun time of kickball.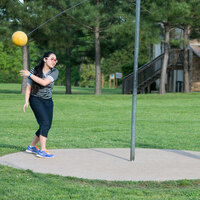 The Yard
The Yard has a whole host of fun activities: Mini Golf, Volleyball, Basketball, Gaga Ball, the Maze, and Tetherball.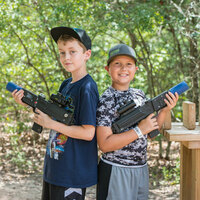 Laser Tag
Set in an outdoor course, Laser Tag is an exciting game of strategy and teamwork.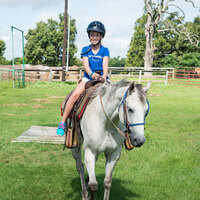 Horsemanship
An add-on activity for campers, horsemanship is an opportunity to become more comfortable on horseback through various activities and games, all led by our Sky Ranch wranglers. Learn More! Additional cost applies.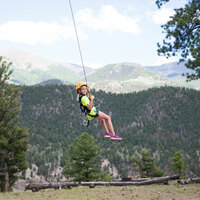 Alpine Swing
This is a swing unlike any other! Get ready for a 360-degree view.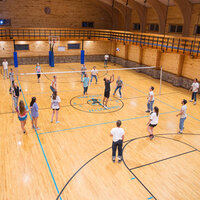 Rec Center
The Horn Creek Rec Center is packed full of entertainment so, no matter the weather, there is always something to do: Bowling, Rock Climbing, Basketball, Racquetball, the Trading Post store, Peaks Treats, and more!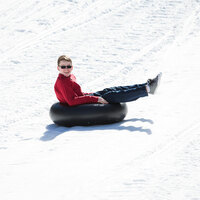 Tubing Hill
Glide down the snow-covered hill in an inflatable tube.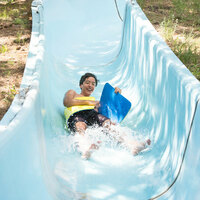 Water Slides
Choose from three different slides. Race a friend down or enjoy a refreshing cool down.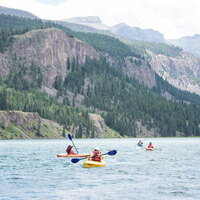 Kayaks
Take an excursion to Lake San Cristobal for an afternoon of kayaking.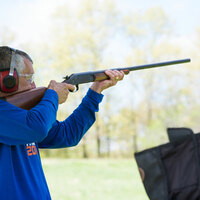 Skeet Shooting
Enjoy this recreational and competitive activity where participants attempt to break clay targets.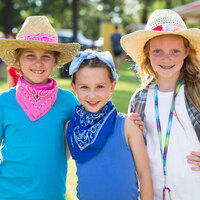 Nights Events
Each night of the week is packed with an awesome theme night created with your camper's age in mind. From the unforgettable Carnival & Rodeo for Sky 1 & 2 to the tradition of Mission Impossible for Sky 3 all the way through Leadership camps, campers are sure to have a blast.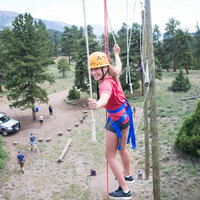 Challenge Course​
An adventure with a fantastic view, the challenge course gives you the opportunity to challenge yourself on various elements and finish with a zipline!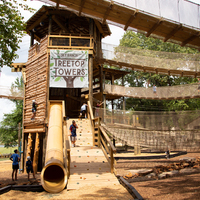 Tree Top Towers
Interactive adventure playground with a dozen different elements: climbing walls, jumping segments, a zipline, and more!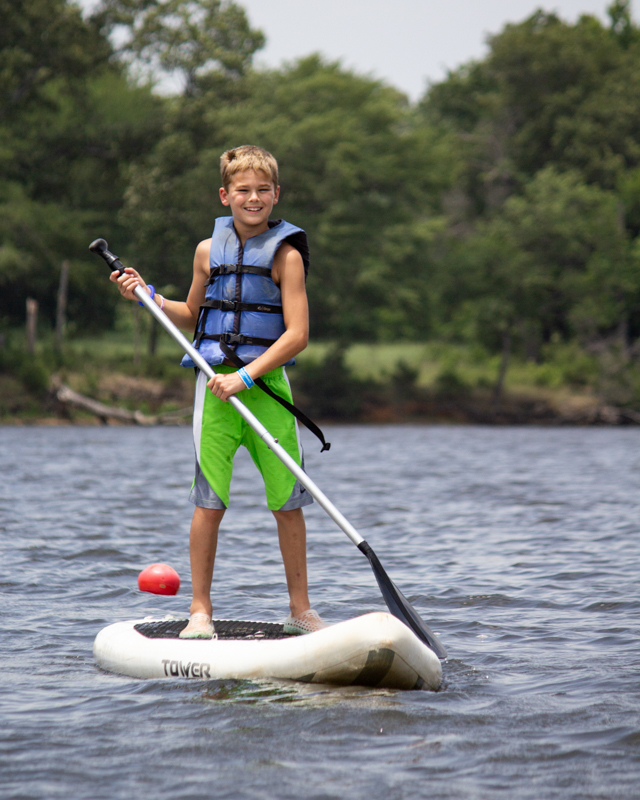 Not your ordinary sleepaway camp
WHAT PARENTS SAY ABOUT SKY RANCH SUMMER CAMP
---
"Absolute BEST experience for my kids ever. Can't recommend it enough!"
---
"Her favorite thing was Bible study. Not the giant pillow, not the torpedo, not the crazy slides. That says something about your program."
---
"My sons love Sky Ranch! You would think their favorite part would be all the fun activities, but it's the amazing, caring counselors!"
---
"We love the intentional plan that Sky Ranch has for each child to grow in their relationship with the Lord while having fun and making great friends and mentors at the same time!"
---
Choose Crazy Fun with a Powerful Purpose
1.

Register

Pick the program and session.
2.

Drop Your Camper Off

We provide the best week of their summer.
3.

See the Shift

Watch your child go from overwhelmed & bored to energized & engaged.
Summer Camp Pricing