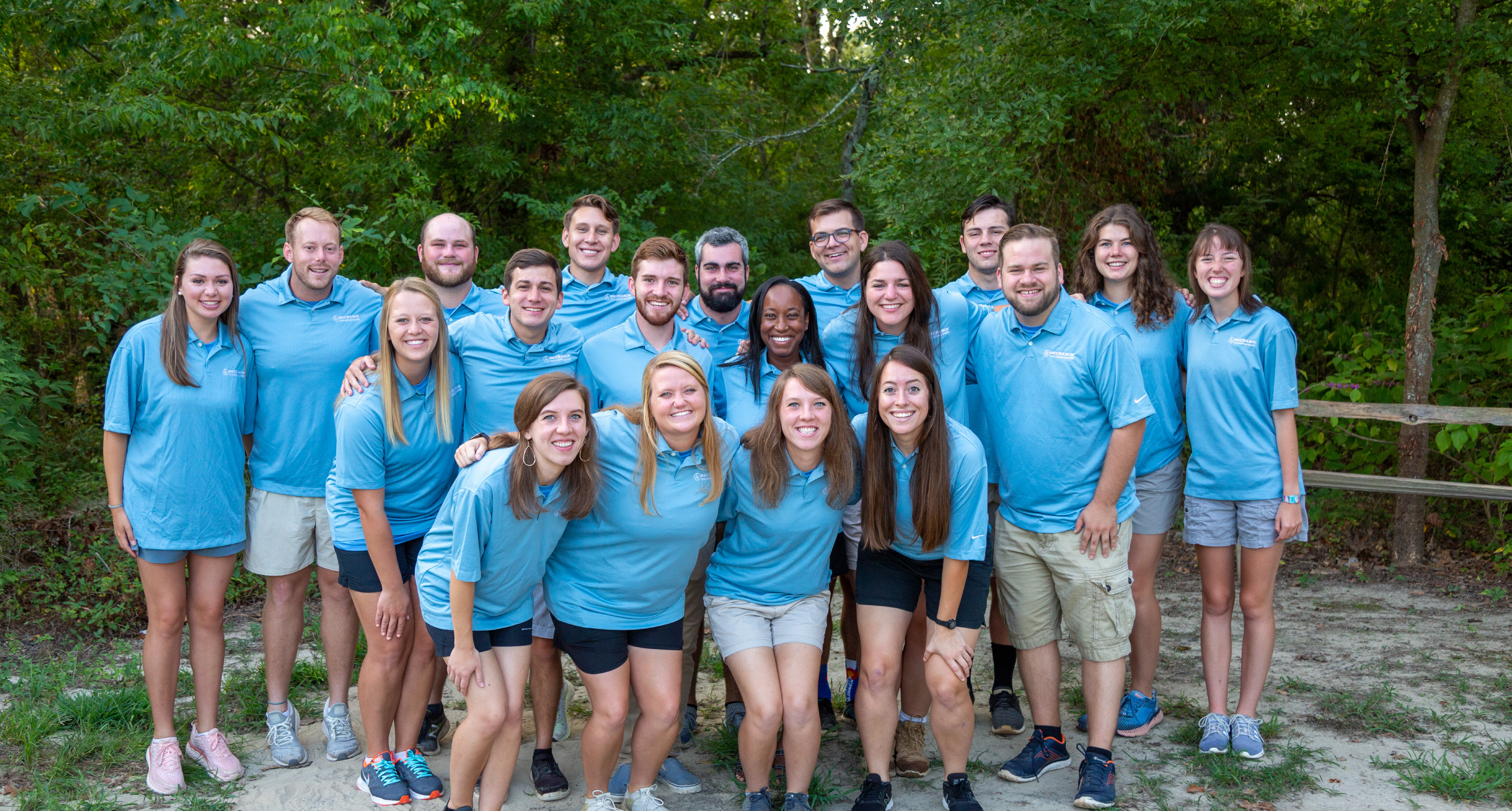 Master's Program​
The Master's Program is a cutting-edge partnership between Sky Ranch and Dallas Baptist University where students will pursue a graduate ministry degree through DBU's online program while serving full time as an instructor for the Sky Ranch School Programs department.
This program is the first of its kind, as it fully integrates the instructional classroom content with daily work experiences of the student. Graduates leave without incurring more school debt, and focus on developing the student's "life ethic" to support the academic program and provide life skills training that will help them balance family and ministry upon graduation. The program is designed to prepare graduates to positively impact ministries, children, family-based organizations, and the overall workplace.
School Programs Instructor
A School Programs instructor is responsible for delivering educational content to students grades 4-6 in a way that is fun and engaging. The material instructors teach is accurate and aligned with the TEKS, the Texas Essential Knowledge and Skills. An instructor is the heartbeat in which the vision of Sky Ranch School Programs is carried out. School Programs instructors will also participate in Student Development programs which facilitate curriculum with students in grades 6-12.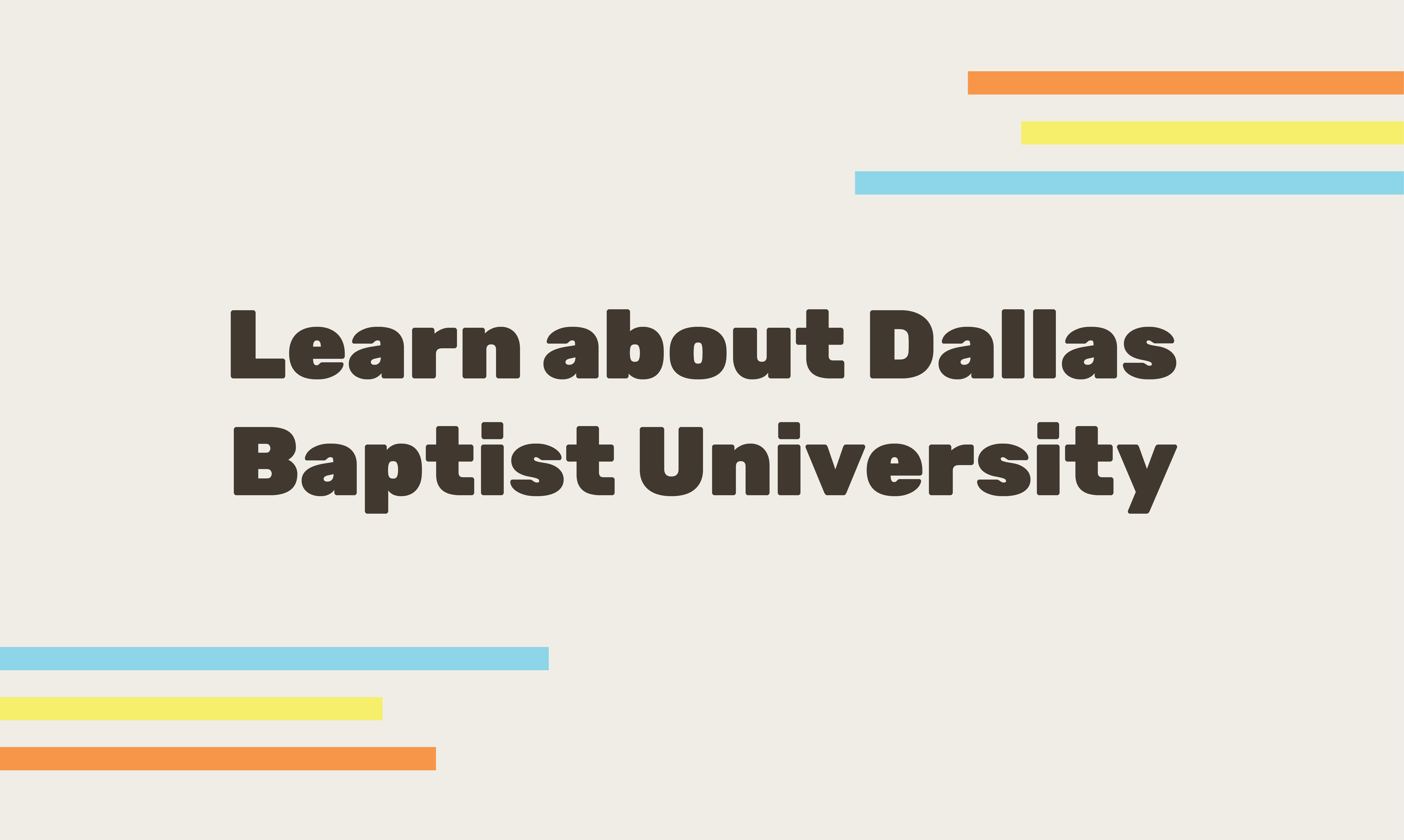 Dallas Baptist University
Ranch's relationship with DBU is one of a kind. Though our Master's Program staff are participating thru DBU's online Master's degrees, they have all the benefits of on-campus students. DBU's professors get to know our students and want to make an impact on their education and life. Each time we visit the DBU campus, they treat us like royalty and make sure that each student gets the guidance needed to succeed while going through the program.
"We value and appreciate so much our partnership with Sky Ranch. The Master's students receive an ideal and highly-coveted combination of both theory and praxis. Graduates of this program are highly sought after because of their solid foundational knowledge of theology and philosophy of ministry in addition to the incredible, real world experience of serving and leading at one of the nation's premiere residence camps."
-Shelly Melia Associate Dean of the Graduate School of Ministry at DBU
Program Details
Selection Process
Beginning in September we will start the evaluation and selection process for the upcoming Master's Program which begins the following August. We will select 10 college graduates who are one year removed from college. Current members of the Horn Creek and Van Fellowship programs will be considered first. Prior Sky Ranch experience is not required to be considered for the Master's Program but, based on openings, all outside candidates will not be considered until March 1st.
Dates
The program begins in Mid-August and finishes 21 months later at the end of May.
Compensation
Outside of earning a Master's degree, it is a salaried position with Sky Ranch's standard health benefits as well as paid time off (PTO). Masters will live at gender-specific housing called Crossroads that is 4 miles from camp and are provided food through our dining services.
Certifications Required
Master's program staff will earn certifications in Lifeguarding, First Aid/CPR, and as a Level 1 Ropes Course Practitioner. These certifications will be provided by Sky Ranch as a part of our extensive staff training. Due to the strenuous physical nature of the Lifeguarding certification, it is recommended that you visit www.RedCross.org for details on the necessary prerequisites.
Meet our Master's
Meet our current class of Master's students.
Master's Degrees
Master of Arts in Christian Ministry
The M.A. in Christian Ministry degree program explores general concepts of ministry to equip students for a lifetime of service in a variety of church or church-related contexts. Students learn to be effective pastoral ministers through practical, biblical, historical, theological, and general ministry-related courses.
Master of Arts in Children's Ministry
The M.A. in Children's Ministry degree program prepares students for the enormous privilege of helping children realize a personal desire to follow Christ and grow in their commitment in this for their lifetime. The specialized training in this degree program increases students' ministry potential to reach more children and families with life-changing ministry and biblical solutions that address contemporary needs.
Master of Arts in Family Ministry
The M.A. in Family Ministry degree program equips students to minister to the whole family. Servant leaders with a heart for families will proactively explore best practices for encouraging Christian family formation through every phase of life, while effectively speaking truth into our culture regarding God's design for the family.
Master of Arts in Global Leadership
The M.A. in Global Leadership degree program combines a ministry focus with a globalization dynamic that widens opportunities for graduates. Graduates are equipped to apply their knowledge and skills to engage in meaningful service in a variety of cultures around the globe.
Master of Arts in Theological Studies
The M.A. in Theological Studies degree program combines a classical graduate theological education with practical ministry opportunities, including a supervised ministry mentorship. We prepare students with knowledge in biblical, historical, theological, and practical ministry studies to meet the unique needs of a variety of 21st century ministry and leadership contexts.
Master of Arts in Worship Leadership
The M.A. in Worship Leadership degree program allows students to participate in a Christ-centered, holistic study of Christian worship in preparation for lifelong servant leadership in diverse worship contexts. Students receive not only a sound theological and transformational foundation of worship through the ages but also the practical and artistic skills needed to effectively lead today's church.
Master of Arts in Christian Counseling
The Master of Arts in Christian Counseling is a non-licensure, 36-hour graduate program designed to provide Christ-centered education to prepare servant leaders for the practical ministry of Christian counseling. The program provides both a theological and counseling foundation enabling the student to incorporate biblical principles into a counseling ministry. The program is designed for graduates who plan to counsel in the local church, denominational agencies, and ministry-based organizations.
Master of Arts in Education Ministry Leadership
The Master of Arts in Education Ministry Leadership degree combines practical experience, contemporary methodology, and the timeless truth of God's Word to produce servant leaders who are well prepared to lead effectively in the local church, and para-church ministries. Ministry Leaders are equipped to think critically and lead relationally within the Christian context relative to social, cultural, and spiritual issues of today.
Sky Ranch/DBU Class Progression
The class progression outlines the two-year course sequence for Sky Ranch/DBU Master's programs.
Van
Texas
Located just 90 miles east of Dallas.