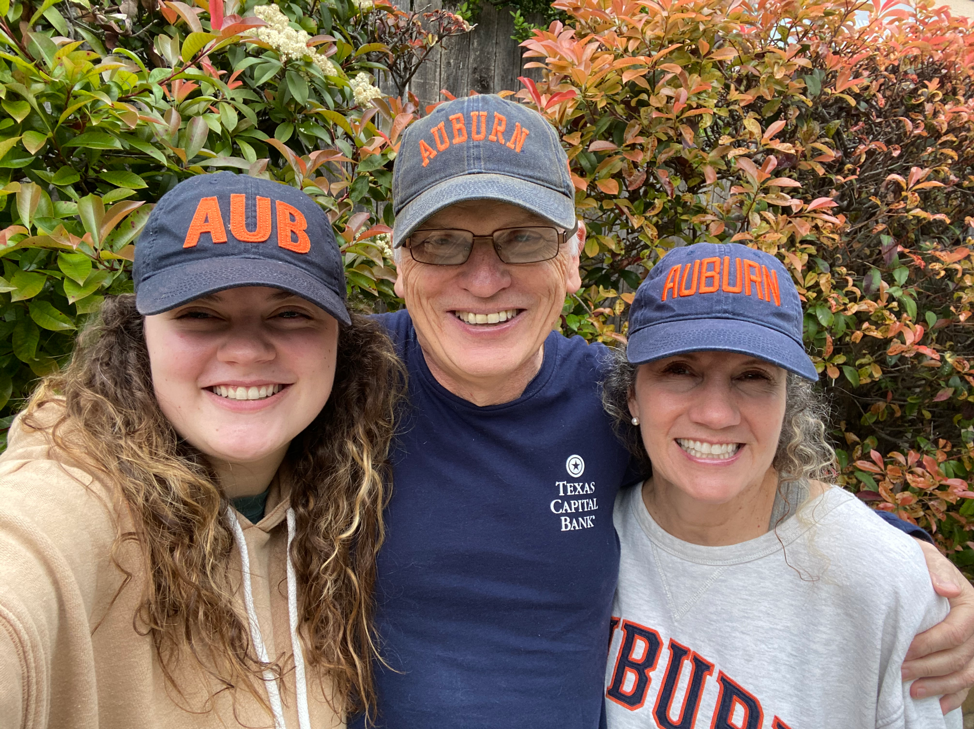 SkyMoms > News & Events, Parenting Tips
5/5/20
Reflections on Life in the Time of Corona - Sue Beddingfield
We'll always remember where we were the moment we realized life, as we know it, was shutting down due to Covid-19.
Much like remembering where we were when we heard a plane crashed into the World Trade Center in NYC. Or catastrophic tornadoes hit. Or Ebola or Zika. Or, for our parents and grandparents, when Pearl Harbor was bombed. Or Polio or the Black Plague. Since the fall of man (and woman), troubles have come and gone. Our challenge and opportunity is to seek the joy in the midst of the trials (James 1:2-4).
In spite of (because of?!) shelter-in-place, these are just a few of the blessings poured out on our family during these past few weeks:
- My husband and I became empty nesters this past fall when our only child left for college. Now we have 'extra innings' with our gal!
- Our prayer life has exploded. Our church now meets on Facebook every weekday at noon for an interactive half hour of prayer. We have signs in our yard asking our neighbors how we can pray for them. Our family prays together every night. James 5:16 says The power of a righteous person has great power as it is working. Amen!
- Zoom calls will never replace human contact and connection. But, how beautiful to see each participant's face, to hear what each person has to say one-at-a-time. No side conversations. No surface niceties. Very intentional communication.
- Family dinner together EVERY NIGHT! And even an occasional lunch or two together, if everyone can escape his or her 'office.'
- We are out of our house for a remodel, temporarily living in an apartment. By the grace of God, we splurged on a tiny 2-bedroom, rather than a tiny 1-bedroom, 'just in case' our gal was home more than a couple nights between college and heading to Sky Ranch for camp counselor training. So, though we are in CLOSE QUARTERS QUARANTINE, what a blessing that we have a second bedroom in our temporary housing AND we get to move back into our 'new' house before too long.
- Each Sunday morning, we participate in online worship with our Dallas church, then with our daughter's church in Auburn. Our family is united again in worship and in the Word.
- Our false idols - sports, entertainment, eating out, our (my!) To Do lists, shopping, etc. - have all been stripped away. Thank you, Lord, for giving us this time to focus on your goodness and daily provision.
- A point from our Easter Sunday message that was particularly poignant to me - from John 20:11 Mary stood weeping outside the tomb. It's ok to have a good cry. Precious Heavenly Father, thank you for the GIFT of tears during hard times.
- Gratitude for this slower pace, friends. This quote says it all for me: The difference between an ordeal and an adventure is attitude.
- Puzzles, sourdough bread starter from a neighbor, watercolors, Netflix bingeing, trading fresh cut mint in my yard for fresh spinach in a neighbor's yard. When was the last time we made time for these wonderful things? Have we ever before now?
- We have talked at length with our daughter about how this time will shape her generation and those to follow. Maybe most folks will work from home from now on. If tele-medicine wasn't already well used, it certainly is now. What will the 'pandemic proof' careers of the future be? Maybe there will be more stay-at-home moms and/or homeschoolers, because that has been the norm for a bit. Our grandkids will be studying this global pandemic and its effects in history, sociology, health and more!
- Especially in the first few days of quarantine, the thought struck me that this might, indeed, be the end of the world. And then the utterly dependent-on-Christ lyrics, beautifully penned by Horatio Spafford, came to mind: it is well with my soul. Whatever happens, Lord, thank you for taking my sins as your own and dying on the cross for me so that I might have eternal life with you in Heaven.
Praying for each of you, sisters. Be strong and take heart, all you who hope in the Lord. Psalm 31:24
Sue Beddingfield