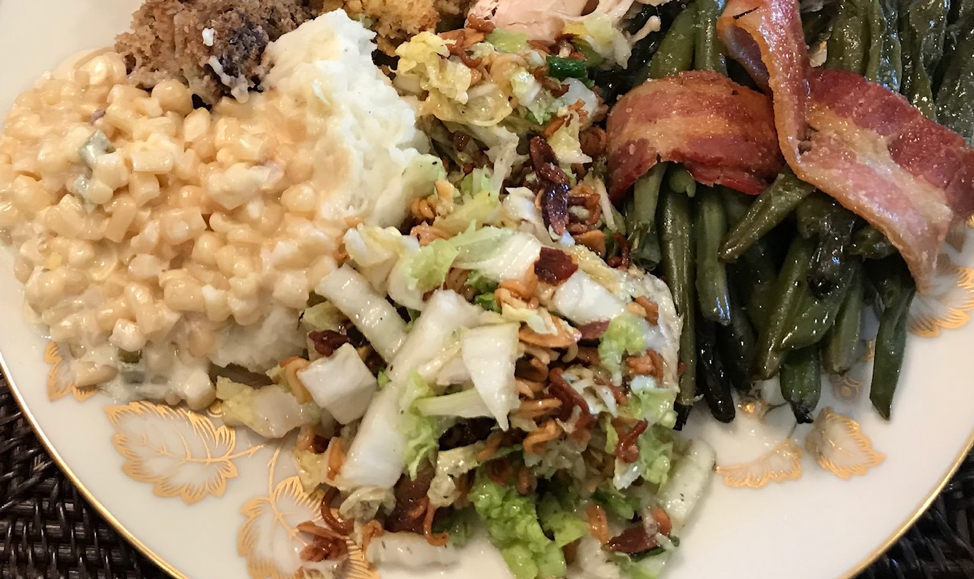 SkyMoms > Recipes, News & Events
4/17/19
Easter Recipe - Nappa Cabbage Salad
What are your Go-To recipes to serve for Easter lunch? My family always requests my cream corn, green bean bundles and a delicious salad. This Easter I will be making a family favorite…Nappa Cabbage Salad! It is easy to make, it can be prepared the day before, and after church we will come home, and I will toss the salad all together as a yummy side to our Easter meal.

Nappa Cabbage Salad
Total Time: 40 minutes
Yield: 15 servings

Ingredients
2-2 ½ pounds of Nappa Cabbage
5 green onions
3 packages of ramen noodles (discard the flavor packet)
½ C butter
¼ C sliced almonds
¼ C sesame seeds

Dressing:
3T peanut butter + canola oil to equal ¾ C
½ C sugar
¼ C rice vinegar
2 T soy sauce

Instructions:

1. Cut the tail off of your cabbage and toss in trash.
2. Thinly slice rest of the cabbage and place in large bowl.
3. Slice green onions and add to your cabbage bowl.
4. Open packages of ramen noodles (, place in a gallon sized freezer sip lock bag and pound them into small pieces.
5. Heat large skillet over medium high heat. Melt butter and add ramen noodles, almonds, and sesame seeds.
6. Cook the mixture stirring frequently until everything is a toasty brown. Set the crunchy yummies aside to cool.
7. Place 3T of peanut butter into a glass measuring cup, pour Canola Oil into the cup over the peanut butter. Your total measurement with the peanut butter and oil should measure ¾ C.
8. Put the peanut butter/oil mixture into the microwave and heat for 30 seconds. Stir until peanut butter dissolves.
9. In a medium sized sauce pan add sugar, peanut butter/oil mixture, soy sauce and rice vinegar.
10. Bring the mixture to a rolling boil over medium high heat. Let in boil for one minute. Then set aside to cool.
11. When you are ready to serve toss the cabbage, green onions, the yummy crunchy ramen mixture and pour the dressing over the top to coat. Serve immediately.