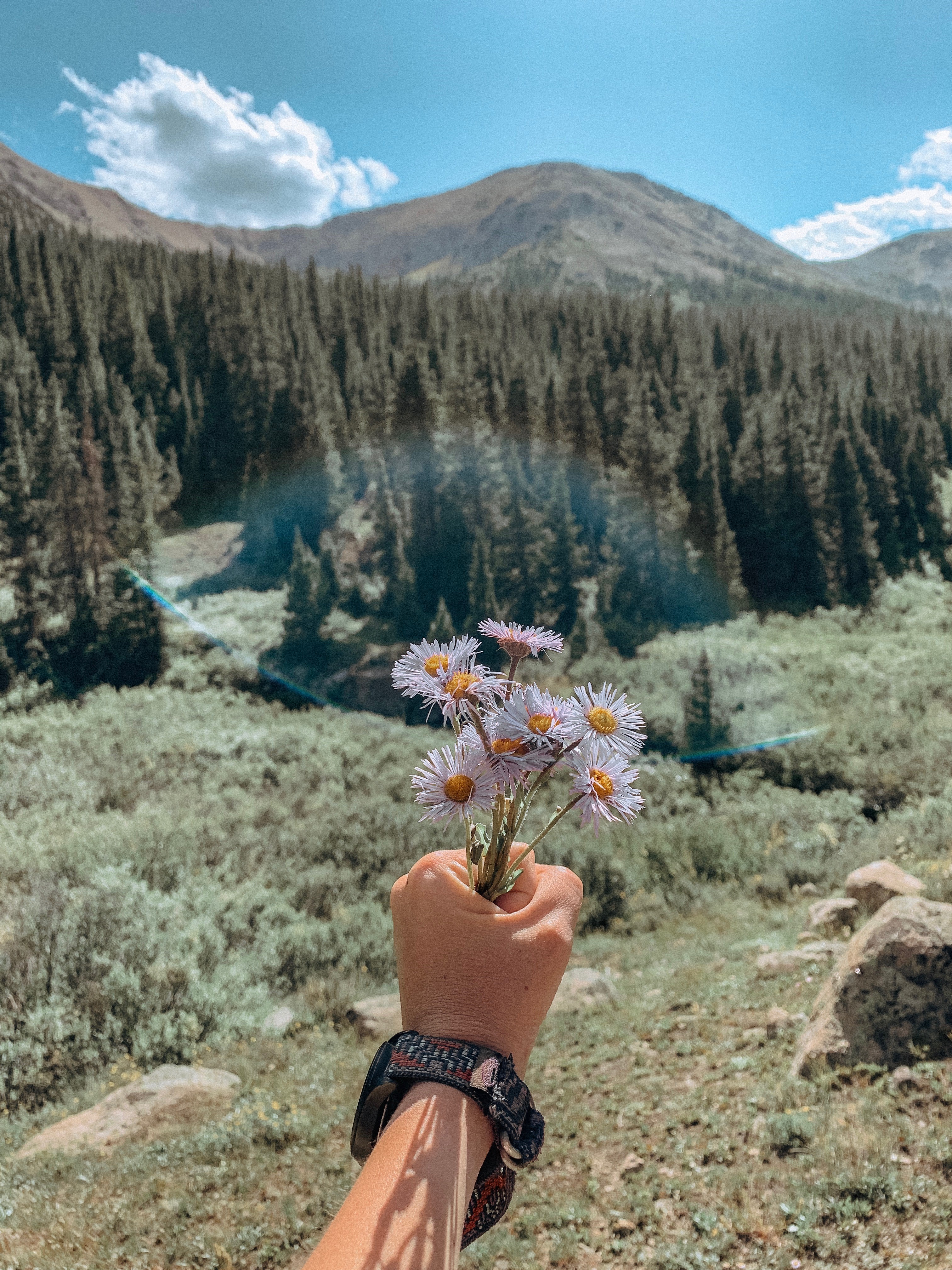 Sky Ranch > The Fellowship
11/4/19
Beauty in the Wilderness - Jenna Holley
Have you ever been in a place that seems far from literally everything? Well, I can now attest that I have. Welcome to the wilderness.

Since moving to Colorado, I have lived in a town that is so small that instead of stating how many people live in the town on the welcome sign, it states the elevation. There is not much here, and as a girl who is used to the city this has been an experience… and it has been heart-breaking to know that the nearest Chick-Fil-A is over an hour away, but good news, this means I have saved money because the Lord has removed that temptation.
Geographically Sky Ranch Horn Creek is in the middle of a national forest and it is breathtaking out here and I don't just mean that because of the high altitude. But I could go on and on about the beauty of this place but I would like to share with you guys with something that The Lord has shown me as I have been here and that's beauty in the wilderness.

Beauty in the wilderness goes much deeper than merely a geographical location, beauty in the wilderness goes to the heart. Recently, I've been studying Psalm 34, it's a psalm in the midst of the wilderness. As you read what I've learned from this Psalm, ask yourself, "have I personally experienced YAWHEH"?

Psalm 34 begins with saying that I will bless the Lord at all times… What a hard statement to say when you're in the midst of the wilderness. Essentially, David is saying, be determined and bless The Lord even at the most difficult times, when you feel alone, chased off, when your sin is exposed. Let His praise stay on your lips and not only in your heart. Beloved, there is never an unseasonable time to Praise The Lord. Charles Spurgeon once said "If we continually rolled this dainty morsel under our tongue, the bitterness of daily affliction would be swallowed up in joy".

Boast in Jehovah! Bless His name! Others will be encouraged, and the lowly will see that The Lord is faithful in the midst of the wilderness. Speak truth to yourself and others, do this purposefully and intentionally, and we will all be reminded that Yahweh is near.

So, join me and let's magnify the Lord together. If you're like me and were confused on how we could possibly magnify The Lord, I believe this word was meant for us to experience. Though we cannot actually make God greater or make Him appear larger, we can experience His greatness more than what we once thought. Magnifying The Lord is a humbling experience- we are quick to see our inability to adequately glorify the Lord. Therefore, let's continue to strive to grow in seeing The Lord continuously and more than we thought possible. Remember, we will be doing this for all eternity so let's start now.

Let's take a stroll down memory lane as we stir up our hearts to praise The Lord. Do you remember when you sought out the Lord for the first time, and he heard your cry? Then he delivered you from all your fears? Beloved, do you remembered that He DID Deliver you? If sin could keep us from the mercy seat it would be all over for us but PRAISE GOD there is Mercy, there are gifts for the rebels, and an advocate for those who sin. There is now freedom for us to approach the mercy seat. I'm sure you can relate to the poor man's cry that is mentioned in verse 6- feeling friendless, your life is in jeopardy, alone we cry to a protector or THE protector? If you are in this boat, take heart. Something I love about this verse is The Lord heard AND saved him. To be heard by The Lord was to be saved. This is all of our testimonies; The Lord swept away all of our griefs and struggles on the Cross. The Lord preserves the lives of His saints, so this wilderness you are in will not overcome you.

So, fear not because the angel of the Lord surrounds you! On every side of you, you are being watched by warriors with sleepless eyes. Jehovah will protect you, and He will deliver you. Take a deep breath and inhale this truth.

Now we are getting to the question of the day, have you experienced that Yahweh IS good. He is good, yet, have you tasted and seen this for yourself? J.D. Greer stated in his book GOSPEL, "There is a difference in knowing honey is sweet and having that sweetness burst alive in your mouth. Being able to articulate the Gospel with accuracy is one thing; and having that truth captivate your soul is quite another". Intimacy is far better than novelty. Intimately knowing these truths that we have talked about thus far will be what makes your breaks your experience in the wilderness. The wilderness is a hard place, but hard is not always bad. It is in the hard that we are most refined. Therefore, flee from what is evil and do what is Godly. In the midst of this, long for peace and chase after it! Peace with others! Peace within yourself! AND peace with YAHWEH! This peace you're pursuing will comfort you in this season.

Beloved, find comfort and cling to this verse, Psalm 34:15 "The Eyes of The Lord are toward the righteous and his ears toward their cry". What joy should fill our hearts to know that in the midst of the wilderness The Lord has not taken his eyes off of you. Like a groom seeing his bride walk down the aisle, his eyes are locked in and he does not turn away from her. His whole mind is occupied with his bride. His ears are attentive and eager to hear what his bride will say at the altar. So beloved, your cry may be weak, unbelieving, faint, unhappy, or broken, but know your Groom is QUICK to answer His bride's voice. Oh, beloved take heart.

As you have probably experienced, afflictions seem to come from all angles, and are as many as the mosquitoes in Alabama in the summer. BUT YAHWEH delivers, there is joy in the end because The Lord delivers. There will be an end your affliction. The same God that allows affliction also can and does put it to rest. These afflictions will never overcome The Lord's Beloved! You are His Beloved.

"Our afflictions may be numerous and complicated, but prayer can set us free from them all! The Lord will show himself strong on our behalf" – Charles Spurgeon. So take heart- often broken hearts think God is far off, but the truth is this is when he is most near. He is with you! Your crushed spirit is redeemed! There is no condemnation for you! You will be preserved in Jesus and kept by the power of God unto salvation.

Therefore, beloved, know that the one who led you into the wilderness has not left you to crumble. He is actually with you; His spirit will preserve you. I know this is hard, it was hard on David when he was chased out of numerous towns, and it was also hard on Jesus. Take heart, because in both circumstances, The Spirit of God preserved them. You will not be put to shame in the wilderness. He will not give up on you, He is near. And beloved, He never regretted saving you! There is beauty in the wilderness because He is Good and He is Near!

- Jenna Holley