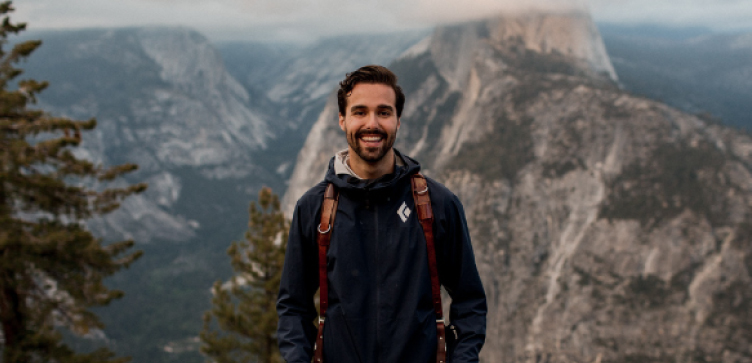 Gavin Menichini | Entrepreneur | Gavin Luke Photography
Gavin Menichini
Summer Staff Alumni
My journey with working at Sky Ranch began my freshman year of college at Texas A&M University. It's late September of 2014 and I'm about a solid month into figuring out how in the world to be a college student, figuring out how to juggle my new-found pledge responsibilities from a Christian men's organization I joined, pushing myself to meet and make new friends while also taking care of myself, and prioritizing time to spend with Jesus and love and serve others.Talk about overwhelming! In the midst of this freshman year chaos for me, I received a text from my old youth pastor from middle school, Matt Bowles, telling me that Sky Ranch was in town at A&M and that I needed to go find a guy named Clinton and interview with him for a summer camp position. At first,I thought to myself, "summer camp at Sky Ranch? That sounds kinda awesome, but it's September and I'm trying to figure out how to be a freshman right now! I don't have the time or the mental capacity to think about the summer yet- this can wait."
As I dismissed Matt's text to me saying I needed to interview with Sky Ranch, the very next day, I got another text from a new friend who happened to be the worship leader at Breakaway Ministries at the time, JeffJohnson,and his text said the exact same thing-that Sky Ranch was in town at A&M and that I needed to go find a guy named Clinton and interview with him for a summer camp position! Talk about God trying to get my attention-and it totally worked! The very next day, totally convinced that I needed to press pause on my freshman year chaos and seriously considerSky Ranch for the summer, I made my way to the MSC to find a guy named Clinton at Sky Ranch's booth. I ended up finding Clinton, chatted at the booth for a bit, and then proceeded to find a quieter place together for our interview. At this point,I was 99% convinced that God was telling me that I needed to work at Sky Ranch this summer. During the time I took to pray through this opportunity, the Lord really pressed me to say yes and jumpin -so I did! To this day, I'm still ecstatic that I said yes!
I had no idea what the Lord had be for me at Sky Ranch as I first pulled up to the big gates out in Van, TX, full of nerves and excitement to embark on the crazy journey called summer camp. I ended up working at Sky Ranch for the next two summers, each of them for the entire summer. The first summer, I worked as a counselor in Texas the first half and then in Colorado for the second half. The following summer, I worked in leadership as COR for the Sigma Senior program in Colorado.Both of those summers were some of the most transformative, life-giving, and memorable summers I've ever had. Throughout my time as a counselor for Sky 4 and then Sigma, the Lord grew, pushed, and transformed me in a multitude of ways. The Lord grew me in patience as I learned how to hang out with and minister to thirteen year olds, in the midst of their seemingly endless energy. The Lord pushed me to deny myself, saying no to my exhausted body and mind and saying yes to engaging with my campers at the end of a taxing week. Lastly, I watched the Lord transform me, alongside my thirteen and eventually seventeen year old campers, as I shared the love and grace of God with them through the Gospel of Jesus.

As COR for Sigma Senior in Colorado,The Lord grew me in how to lead my fellow brothers and sisters in Christin ministry, how to exhort and encourage an entire group of high school students who wanted to be more like Jesus, and lastly, how to lead and care for myself in the midst of a ministerial leadership position. My summer as COR was simultaneously one of the most difficult and fun summers I've ever had. I had the most incredible team surrounding me, from my counselors, my Co-COR, and my manager, all whom, through the power of the Spirit, made the entire summer possible, successful, and so stinkin' fun. On top of this, these guys, along with my previous
co-counselors from my first year working at Sky, all grew to be some of my dearest friends, some of whom being my closest friends to this day.

Two and a half years later, I'm currently a freelance photographer and entrepreneur based in Texas and the lessons, skill sets, and heart change that the Lord instilled in me during my time at Sky Ranch still reign true within me today. I can confidently say that I would not be who I am and I would not currently be in the position of life that I am today if not for Jesus leading me to Sky Ranch and experiencing everything that I experienced during my time there. I'm so incredibly thankful for the leadership team at Sky over the two years I was there, the campers I got to form relationships with and talk about Jesus with along the way, my co-laborers I worked alongside of and formed deep friendships with, and for the Lord bringing me to Sky Ranch to experience one of the most epic journeys of my entire life!