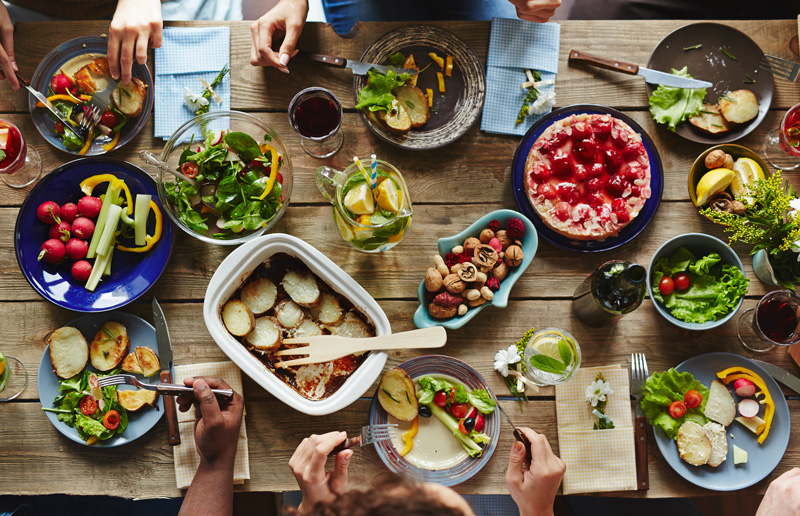 Sky Ranch > Sky News
10/28/19
Around The Table - Lisa Hughes Tyson
Cooking is not my thing. When I make a meal for my family, I am known to use every bowl and mixing spoon in my kitchen. When I am finished, the there is usually a trail between the island, pantry, sink, and refrigerator tracking my "progress." If I've used flour, there may even be puppy prints on the stained concrete floor around the downstairs. If the recipe says that prep time is 30 minutes, triple that time and it will be close to the amount of time it takes me to put it all together—and that's if I've made it before. To get a new recipe ready for dinner, I need a good half day and a new bottle of dish detergent. Just ask my family, they will tell you their dad is the one who makes all of the magic in the kitchen. But, what I lack in the preparation process, I make up for in the excitement about what happens around the table when we all sit down to eat together.

I've always told my children that "I am not a short order cook" and we all eat the same thing. No one has time to make 5 different meals for the tastes of 5 different people. So…each week when I am planning menus, everyone gets to pick something for the list and at least one person is happy each night—whenever they eat. As my kids get older, sometimes my table seems like a revolving door of children. Between homework, FFA pig feedings, and sports practices the family table looks more like a food court or cafeteria with people coming and going. So, the times that all 5 of us are around the table are precious.

I have declared Sunday night "Family Dinner Night." My kids know that their friends are always welcome at our table—even on Sunday night. But, my kid's presence on Sunday nights are a non-negotiable. We have even included our oldest via FaceTime from college on occasion. There is so much laughter at the table. There are tears. And, forgiveness too. More than anything there is a "come as you are" grace. Family Dinner's don't have to be fancy. It is not about the "what" we eat. It is about the "who" is sitting at the table.

The other "table" in our family that I have found to be critical is the "table for two." There was a season when it did not happen very often—Date Night is so hard to manage! By the time you find the sitter, organize the kids for the sitter, wait at the restaurant (while possibly fielding calls from the sitter), answer the texts from the kids wondering when you will be home….you wonder if it would have been easier if you had just stayed at home. Then, after you pay the sitter you at $10 per hour per kid you are exhausted and broke from your night out! If the "Date Night Out" thing is too much, it's okay. A couple of pieces of cheesecake after the kids go to bed is often enough to regroup and remember why you started this whole family thing in the first place. Now, it seems like as our kids are older, there are more "table for two" nights at home than this momma's heart can handle. Seasons….

Another "table for two" that I love are the times when I am with just one of my kids. We go to one of their favorite places to sit and visit. I find that when my kids are all together, I see one side of their personality. But when I get them all to myself, I see a different side of them that they only let out for me. Those moments are precious. Their personalities even come out in the place that they choose to go! It's never fancy. Sometimes it is planned and other times it "works out" and you seize the opportunity given you.

The Family Table—just like God prepares a table for us—is a place that is intentional. It takes effort. It means you might miss something if you set a specific night aside. Your kids may invite 3 friends each and your family table has 9 extra people around it. It's worth it because it is where life happens and love wins.

~Lisa Hughes Tyson