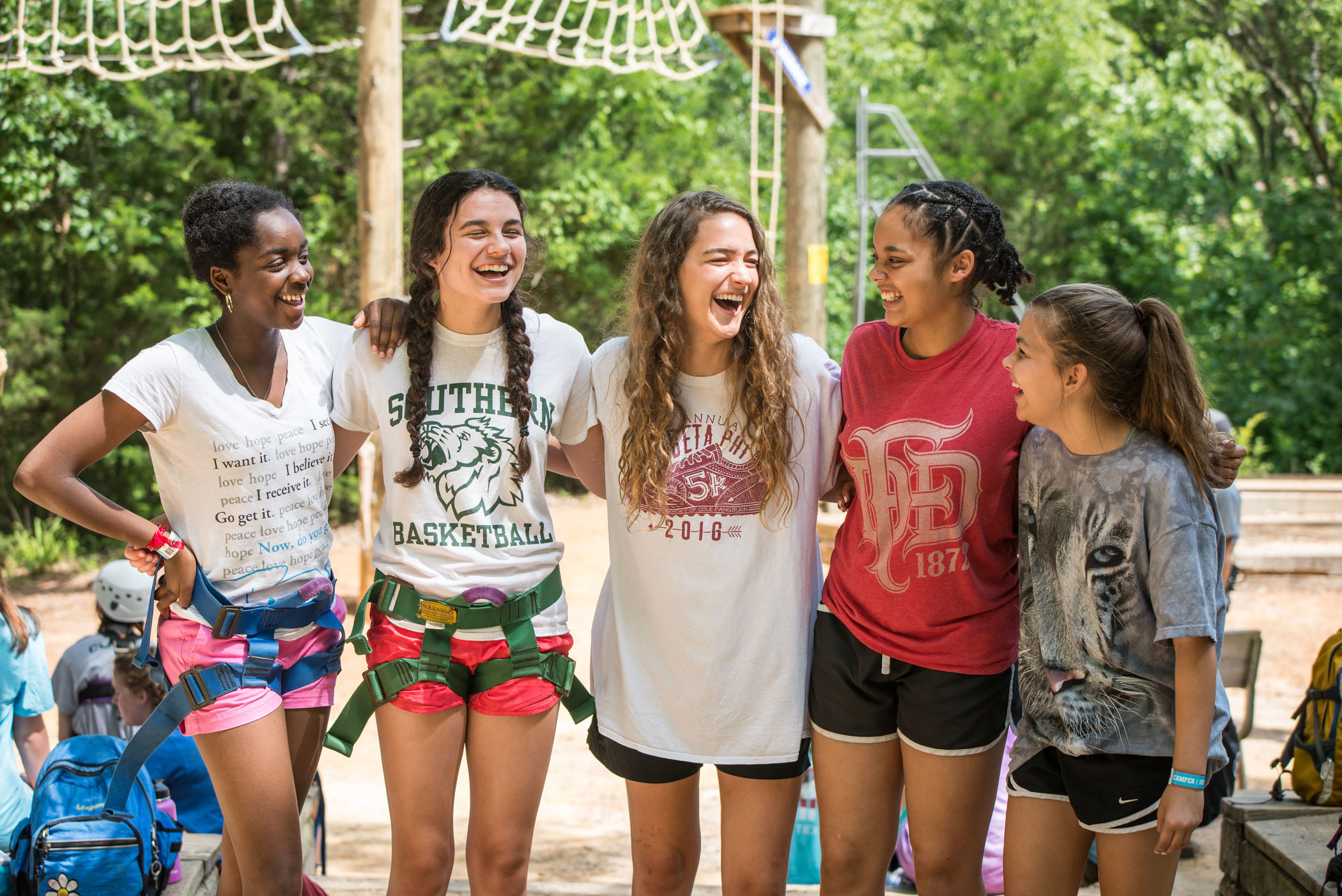 Arrival & Departure
Texas: Overnight Camp
On this page you can learn about:
Opening Day
Many campers choose to show their Sky Ranch spirit by decorating their car for the trip and arrival to camp. Window paint and streamers are some of our favorites! You can include your camper name, cabin or just let everyone know you're heading to your favorite summer place! We cannot wait to see you!
The gates will open promptly at the times designated below for each program. If you have multiple campers attending, you are welcome to arrive at the earliest time. For safety and scheduling purposes, there will be no one to assist you or care for campers before the start time. Please do not arrive early. If you cannot arrive during these times, please share that information with us in your online account.
Schedule
3:00-4:00 pm: Sky 1, Sky 2, Sky 3, All Colorado Programs, Young Riders,** Sky Fillies**
4:00-5:00 pm: Sky 4, Morph, Quest
**If you are bringing a horse, Sky Ranch Staff will be at the arena beginning at 2:00 PM to assist you. Once you have your horse settled, you will proceed to check-in on camp.
When you arrive, you will be directed to parking, where our staff will load your luggage and you can hop on a trailer headed to your cabin. At the cabin, you will meet your camper's counselors, help them make their bed and get settled. You can discuss any special concerns with counselors at this time. For the safety of all campers, a lice check and health questionnaire will be completed on all campers according to our policy. Remember, you will need your driver's license to check your camper in, so keep it with you. Once your camper is all settled, you can hop on a trailer and head to the Legacy Center to drop off camper mail, meds, finalize any registration details, and visit the Corner Store and Café Sky.
Saturday Closing Ceremony
Closing ceremony is the perfect way to end an incredible week. It is especially designed for you and your family. You'll get to cheer on your campers arriving to the show, learn a chant or two, watch an amazing video and get a little insight into the week! Counselors will honor your camper and speak of the character qualities they saw in your camper during the week. We hope you will attend.
Please arrive early to retrieve your camper's luggage from the luggage pick-up area. After parking, please proceed directly to the express check-out tables arranged by cabin number in front of the Legacy Center. Here you will present your photo ID and receive your Authorized Release Form for your camper.
Schedule
8:30 am: Young Riders and Sky Fillies exhibition rodeo at our Champions Rodeo Arena
8:30 am: Front gate opens for luggage retrieval
8:30 am: Sigma Senior Brunch and Closing Ceremony
9:30 am: Sky 1, Sky 2
10:30 am: Sky 3, Sky 4, Morph, Quest, Sigma JR, Young Riders, Sky Fillies
Camper Check-Out Policy
Before you pick up your child, you will be required to show your driver's license to their counselor and provide a signature on the check-out form. Campers will not be released to an individual for any reason without following the check-out policy. You may authorize additional people to pick up your camper in your online account under Additional Questions. We cannot release a camper to any person who is not on this list provided by you.
Lost and Found
Please check the Lost and Found table with your camper before leaving on Saturday. If you realize your camper did not make it home with an item, please call 800-962-2267 and ask for Camp Works. Items will be held for two weeks. After that time, all unclaimed items will be donated to charity. Please label all items and be sure you have all of your camper's belongings before leaving camp. Sky Ranch cannot be responsible for lost or broken items.
Session Video and Camper Photos
Session Videos, as seen in Closing Show, and photos of your camper's cabin will be available for purchase on day of departure. They may be purchased in the Corner Store.
Airport Transportation
Transportation is available for campers flying in to DFW Airport, Dallas Love Field and Tyler Pounds. The cost for transportation is $130 each way per family. We ask that you please book your flights to accommodate the transportation schedule below:
ARRIVALS:
DFW – Sunday 11:00AM – 2:00PM
Love Field – Sunday 2:00PM – 4:00PM
Tyler Pounds – Sunday 11:00AM – 2:00PM
DEPARTURES:
DFW or Love Field – Saturday 10:00AM – 12:00PM
Tyler Pounds – Saturday 10:00AM – 12:00PM
Airport transportation is reserved and paid for through your online account. Select Transportation in your camper's itinerary. A flight number is required and must be provided to secure transportation in your online account.